On April 16, 1970, that the Boardy Barn first opened it's doors to the public and began a tradition that shaped the Long Island Party Culture and lives on in our collective memories.
April 16, 1970 was a Thursday.   That night the band was "Four in the Morning", but ironically, the Boardy Barn had to close at 2:00AM on its first night because county law back then said that bars had to close at 2AM instead of the current 4AM.
Beer was inexpensive and sold in glass mugs!!!  ... and you could buy pitchers of it back then, too!!!   The original bars were the two inside... the infamous "Square Bar" and the "Moose Bar" (the bar next to the dance floor that has gone by a few names ("Olde Towne Bar" and "Malt Shop Bar") to name a few.  Incidentally, the dance floor back then was concrete and not sunken as it is now.
The Boardy Barn also sold real food (not just pretzels, and hot dogs as now) back then. You could have ordered the BEST hamburger (cooked by the great "Dollar Bill") that you ever tasted.. with fries!  We also sold Knockwurst!!  Tommy Holoquist was there and worked the Knockwurst stand in those early years.  
Rumor has it that "Big Dave" was eating there one night shortly after the Barn first opened its doors, minding his own business when two guys started an argument near "Big Dave" and interrupted his meal.  "Big Dave" asked them to kindly stop, but they didn't.  "Big Dave" then effortlessly picked the guys up with ease and carried them out.   "Big Dave" was offered a job on the spot!  
"What a long strange trip it's been!"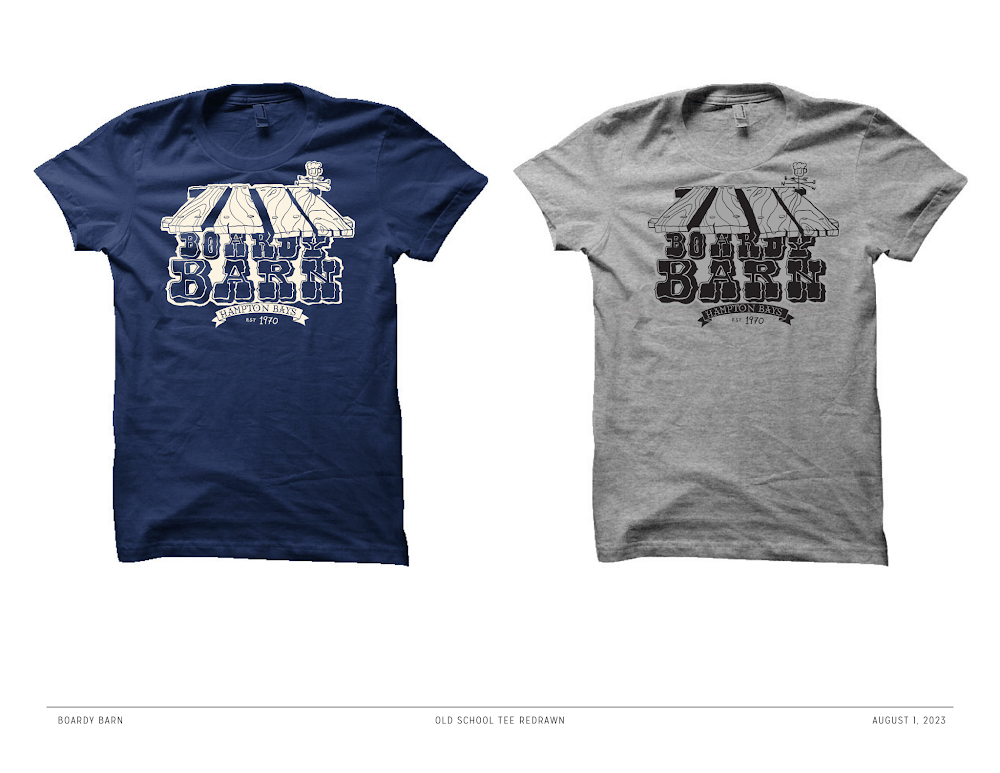 Hampton Bays, NY

Established: April 16, 1970.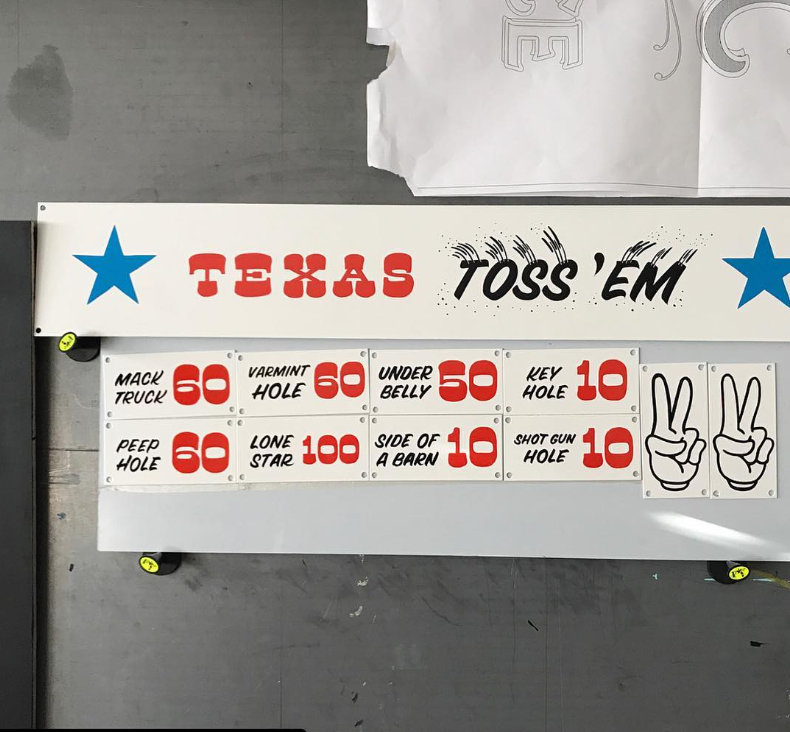 Toss a Beer You're Outa Here

If we let everyone throw beer, it would be pure pandemonium. Therefore, you'd be immediate ejected if you threw a beer.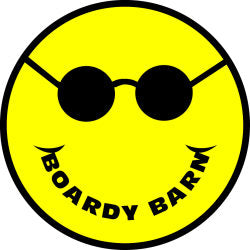 It has been tradition for the bartenders to hand out 20 or so stickers and pass them to customers as a 'thanks' for tips. Customers proceed to stick them all over each other - its the ultimate icebreaker. Stickers are spotted at other bars and landmarks literally all over the world to this day.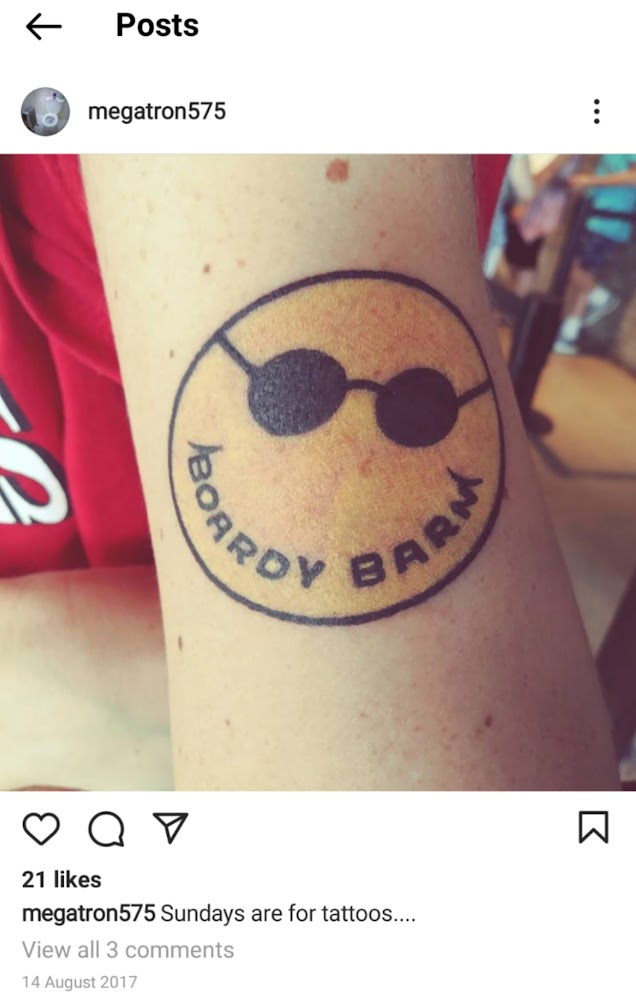 As you can see from this tattoo, people love the Boardy Barn Smiley.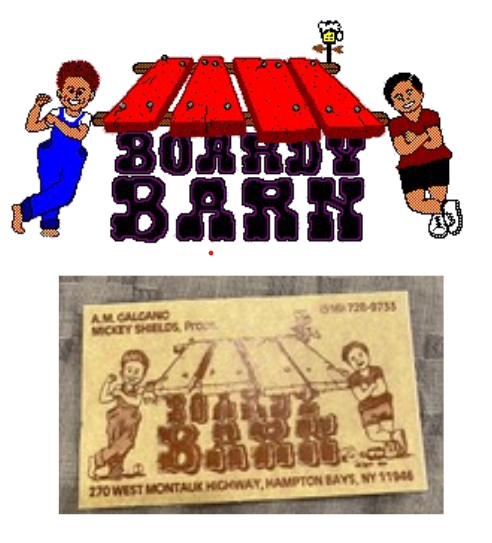 Mickey Shields & Tony Galgano were the founders. This image is an adaptation of their first business card. It was used on our website, which dates back to the early nineties. (one of our employees was a total nerd and way ahead of the curve. We are grateful to him).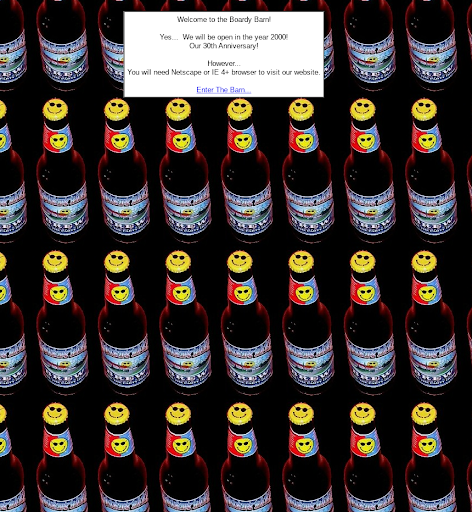 We brewed a beer

In the late 90s we brewed 6,000 cases of beer. It was sold all over Long Island and New York City. It is hard to sell beer so we stopped.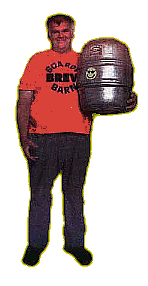 Big Dave (aka Lerch)

David Cooper was our first bouncer. At over 7 feet tall, he was an imposing figure and gentle giant. He was also our photographer. We have thousands (maybe hundreds of thousands) of pictures from the archives.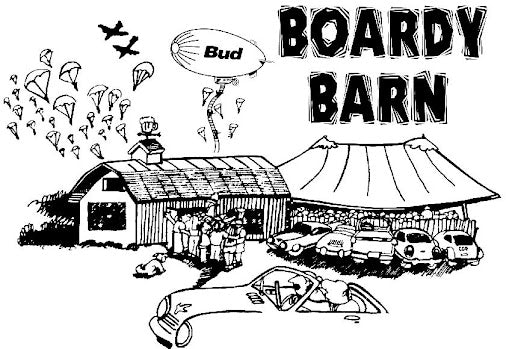 A cartoon image of The Barn

This was on some of our promotional posters & t-shirts.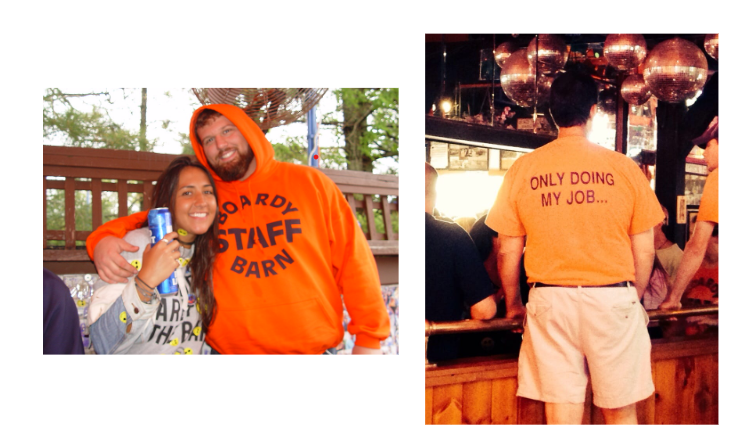 The iconic staff shirt

Customers would offer hundreds of dollars to buy these, but they were cherished by the staff.